COVID 19
INFORMATIONS COVID-19 / HEALTH PASS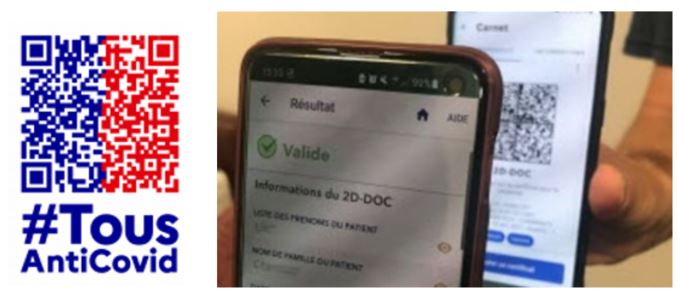 HEALTH PASS REQUIRED TO ENJOY CERTAIN AREAS AND SERVICES
CHECKS DONE AT RECEPTION BEFORE ACCESSING THE SPACE
Dear Madam, Dear Sir,
We wish to inform you of the progress of your stay according to the rules imposed by the government from August 9, 2021 to fight against the spread of COVID-19.
Access to the equipment and services of our establishments is subject to government authorizations in effect during your stay. Some areas require the presentation of a health pass in the form of a QR code, in order on the date of entry into the establishment and for the duration of your stay.
It can be presented on paper or in digital version:
– a negative RT-PCR or antigen test of less than 72 hours,
– or a certificate of recovery from Covid-19 (RT-PCR or positive antigen test dated at least 11 days and less than 6 months),
– or a vaccination certificate, provided you have a complete vaccination schedule.
This protocol may change over time depending on the evolution of the health situation. Find details of the procedures required by government authorities in "Find out more about the health pass". https://www.gouvernement.fr/info-coronavirus/pass-sanitaire
The areas affected by the health pass are the breakfast room, the pools and the fitness room.
ALL THE INFORMATION ABOUT THE ROUTE OF YOUR STAY
Upon your arrival :
You will be required to wear a mask in the establishment.
Our staff will wear a mask and will be protected by a plexiglass screen.
We ask you to clean your hands with hydroalcoholic gel before proceeding with the check-in procedures – ideally with your own pen – and to follow carefully what the staff ask you and advise for your health security.
Your room :
Once you have completed your arrival procedures, reception will show you the way to your room. We ask that you wear a mask while traveling around the hotel and respect social distancing. ONLY GET INTO THE ELEVATORS WITH THE PERSON (s) SHARING YOUR ROOM.
If your stay lasts more than one night, our maid will come back to your room to make your bed and change your towels. If you do not want this service – due to COVID – please let us know when you arrive. If you just need to renew your towels during your stay, please call the front desk. The linen will be given to you at the entrance to your room.
 Breakfast:                                                                                ACCESS SUBJECT TO A SANITARY PASS
The sanitary pass will be required to access the breakfast room. If you do not have the sanitary pass and you are on the breakfast included formula, a supplement of € 10 per person will be required to have breakfast in your room.
The bar / restaurant / room service evening:
Our evening room service is currently unavailable.
The indoor pool area:                                                             ACCESS SUBJECT TO A SANITARY PASS
Access to this area is subject to the control of your health pass. You will have to present it at reception each time you want to access it.
Open every day from 9 am to 9 pm.
You are asked to respect social distancing in this space.
Treatments – in addition -:
Check with reception for the schedule for opening treatments. Our spa practitioner will also be fully equipped to ensure protection and protection against the virus. Duo treatments will be done but in 2 separate cabins.
The swimming pool on the roof – in supplement -:          ACCESS SUBJECT TO A SANITARY PASS
Access to the outdoor swimming pool, to respect social distancing, is limited to 8 people at the same time. Reservations are made by the day at a rate of € 20 per person from 7 am for the same day. No early booking possible
Fitness:                                                                                      ACCESS SUBJECT TO A SANITARY PASS
The fitness room will be open, you are asked to spray disinfectant and wipe it dry before and after each use.
When you leave:
To follow government health protocol, we ask you, when you leave your room, to open the window.
We thank you for going to reception to pay for your extras – breakfast, room service, etc. – and to put your room card in the box provided for disinfection.
 Luggage storage will be available where you can drop off your luggage and collect it under the supervision of a member of our staff.
Several hydroalcoholic gel distribution points have been positioned in the hotel so that you can disinfect your hands regularly.
Masks (€ 1) and small bottles of hydroalcoholic gel (€ 2) are on sale at reception.
We are aware that these rules are not always easy to follow, but they must be respected to limit the spread of COVID-19.
We thank you for your understanding and your involvement in respecting these procedures.
We wish you a pleasant stay in our establishment.
We remain at your disposal for any further information.
Best regards,
The direction
Follow all our news on facebook eden hotel & spa cannes or on instagram edenhotelspacannes